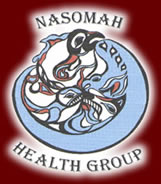 About Nasomah Health Group
Nasomah Health Group was established in 1998 to provide comprehensive health coverage to the eligible employees of the Coquille Indian Tribe, as well as tribal members living outside the tribe's five-county service area (Coos, Curry, Douglas, Lane, and Jackson counties).
The name "Nasomah" comes from the Miluk language spoken by many of our Native ancestors. It means "People of the Great Water."
Coquille Tribal member Jennifer Mecum designed the Nasomah Logo, which incorporates four animals – a salmon, an eagle, a whale and a wolf.
---
Board of Directors
Mark Johnston, Chairman
Jen Procter Andrews, Vice-Chairman and Tribal Council Member Representative
Kyle ViksneHill, Secretary-Treasurer
Judy Farm
Kelle Little
Eric Metcalf, Tribal Member at Large
Donna Dockter, OSA Tribal Member Representative
---
Contact
Rod Cook, Program Manager [email protected]
(541) 751-0940, ext. 1
Toll-free: (866) 436-4785, ext. 1
Cell: (541) 297-0531
Fax: (541) 756-4714
PO Box 921, North Bend OR 97459
---
Questions?
For answers about eligibility, benefits or medical precertifications, please contact our third-party administrator, WebTPA.
(877) 563-7451
PO Box 99906
Grapevine TX 76099-9706
---