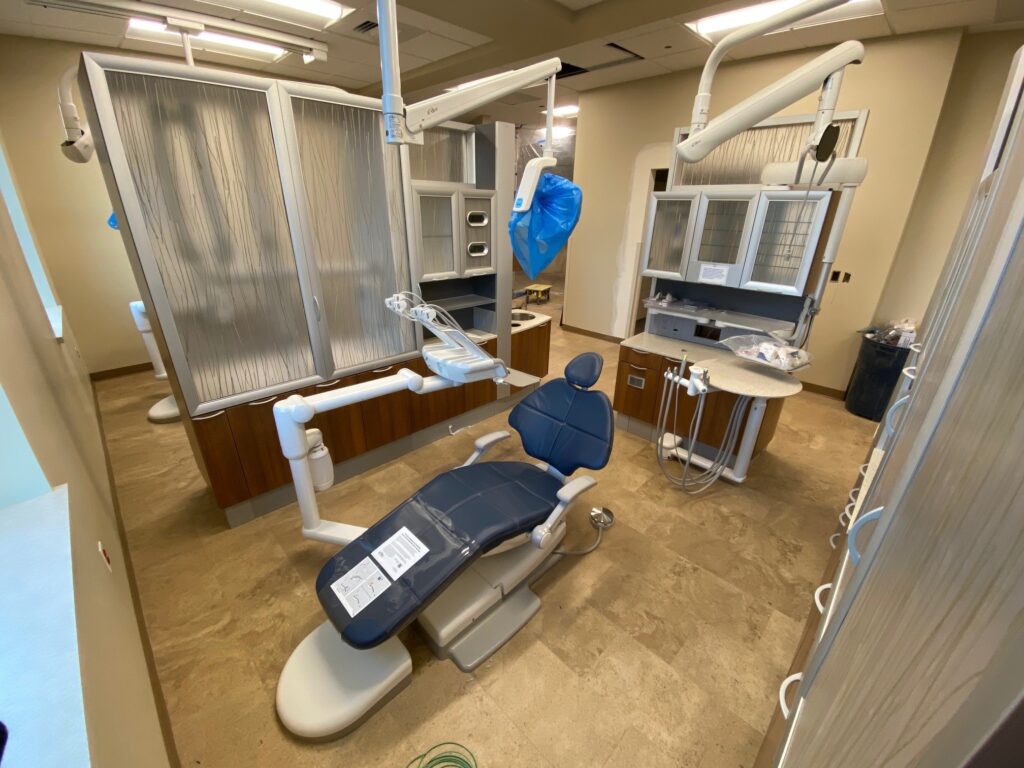 Best seats in the house
The KWC is happy to announce that we will start seeing patients by appointment in late 2021 or early 2022.
For the first few months, appointments with the new dentist, Dr. Mary Williard, and Registered Dental Hygienist Danielle Underwood will be offering care to Coquille Tribal members, their spouses, and Nasomah Health Plan members. Dental appointments will be offered to other patients in the near future.
If you have questions, please contact Dental Office Manager Andrea Love at (541) 888-9494, ext. 2270, or andrealove@coquilletribe.org.
---
Oral health supports your wellness
The KWC oral health professionals are here to care for more than just a fantastic smile. Regular dental care is an important part of overall good health. Regular dental check-ups and cleanings also provide a foundation for strong teeth and healthy gums for a lifetime.

We provide full service oral health care to help everyone look and feel their best:
Preventative checkups
Dental cleaning
Oral health education
Pediatric dental services
Fillings
Crowns
Composite restoration
Bridges
Extractions
Minor orthodontics
Extractions
TMJ
Oral surgery
Panoramic X-ray
---
What to expect
The Ko-Kwel Wellness Centers offers patients a team approach to dental care. We are staffed with experienced and compassionate professionals who enjoy their calling to care for patients. Our Oral Health Team includes a dentist, dental hygienist, dental assistant, dental health aide therapist, receptionist and clinic manager. Working together, the Oral Health Team provides preventative care through regular examinations, cleanings and education on self-care for teeth/gums.
---
Coming soon:
Meet your oral health team
We provide dental care to the Coquille Indian Tribe and honor this privilege with cultural awareness and individualized attention.
---
What is a DHAT?
Dental health aide therapists (DHATs) provide oral exams, preventive dental services, simple restorations, stainless steel crowns, extractions and take X-rays. DHATs provide these important routine services, freeing up the dentist to serve patients in need of higher levels of oral health treatment.
---
Coming soon:
Dental department tour
The dental clinic is situated in the northwest portion of the Ko-Kwel Wellness Center, across from medical and pharmacy services. The waiting area is open and inviting, with blue and green hues and accents of wood and stone. Our six exam rooms feature windows to the outdoors for patient enjoyment.
---
Hours
8:30 a.m. to 4:30 p.m., Monday through Friday
---
Appointments
Dental services are available in Coos Bay only. To schedule an appointment at the Coos Bay dental clinic:
KWC-Coos Bay dental appointments
(541) 888-9494, option 6
Tiffany C.- Receptionist- 541-982-3397
Andrea L.- Manager- 541-982-3426
---
What to bring to your first appointment
Insurance Card – Bring to your first appointment and/or when changes or updates are made.
Photo Identification – Bring to every appointment.
List of prescribed medications – name of medications, dose, and how/when you take it
List of vitamins and over-the-counter medications you take
List of allergies, especially those caused by medications or food
A complete dental history, and/or any updates since your last dental visit
---
Coverage for dental services
Coquille Indian Tribe members and their households are covered for KWC dental services.
Employees of Coquille Indian Tribe government and business entities are covered for KWC dental services through the Nasomah Health Group.
Native Americans/Alaska Natives from federally recognized tribes are covered for KWC dental services.
We bill for service to:
Oregon Health Plan
Nasomah Health Group
Purchased and Referred Care
---
Coming soon:
Oral health through the ages
---
Cancellation policy
If you cannot make your appointment for any reason, please contact us as soon as possible to allow us to accommodate other patients who need dental attention.
Patients who arrive more than 10 minutes late are considered to have missed their appointment and are may not seen during their originally assigned appointment slot.
---
Coming soon:
Forms